Champagne Voirin-Jumel, Cramant - Informal and nice atmosphere
Champagne Voirin-Jumel was established 1968, after the marriage of Françoise Jumel and Gilles Voirin. Both being children of wine growers, coming from Grand Cru classified villages in the prestigious Côte des Blancs, united their vineyards to create Champagne Voirin Jumel.

Untill today, this Champagne House is still famous for its "Blanc de Blancs" Grand Cru Champagne. The 2 children: Alice and Patrick Vorin have both taken over the lead of the family Champagne House.
Alice Voirin, a winegrower, takes care of the Champagne sales; it is she, who will welcome you personally during your visit to the domain. Patrick Voirin, also a winegrower, carefully manages the vineyard and all Champagnes are produced on the domain itself.
This family of Champagne producers, exploits 12,5 hectares of vineyards, which represents approximately 120.000 bottles a year. The domain is situated right in the heart of the Côte des Blancs, the Champagne region well-known for the quality of the Chardonnay grapes.
Today, 3 generations are working on the domain: Françoise Voirin-Jumel, Patrick and Alice Voirin together with their children: Julie, Pauline and Léo.
Come and enjoy our Champagnes and the exceptional panoramic view on the vineyards!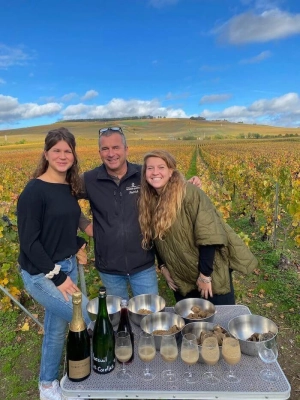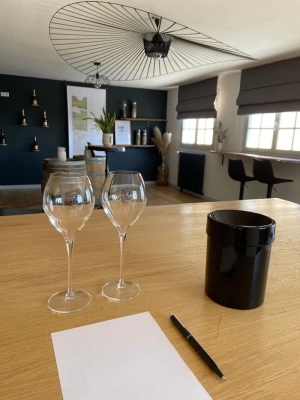 Do I need to book a visit at Champagne Voirin-Jumel in advance?
We advise you to book in advance because availabilities are limited. However, of course you can also make a last minute booking.
Do I need to pay online?
No, you will pay at the champagne house (by cash, bank card, credit card)
Can I cancel my booking?
Yes, you can cancel your booking without any charges 24 hours before your visit takes place. * Please note that Champagne Voirin-Jumel will charge you the full amount of the booking in case of no-show / no notification of cancellation or no timely cancellation.
How can I cancel my booking?
You can login into your own account on the website and cancel your booking without any costs 24 hours before your visit. Of course we will be happy to assist you with your questions by sending us an email to: [email protected]